What forms of payment do you accept?
We accept credit card and Paypal payments through Paypal's secure server.
What is your shipping method?
Shipping is standard mail by the USPS and can take 3 to 8 business days.
Do you ship internationally?
Not at this time.
Can you tell me about your privacy information?
At Bakelove.com we only collect information necessary to complete your order or to contact you about your return. The information we collect includes your name, email address, shipping address, and billing address. Bakelove.com does not store credit card information. Bakelove.com reserves the right to update this privacy policy at anytime.
What are the washing instructions for your t-shirts?
Machine wash cold with like colors. Wash dark colors separately. Tumble dry low. Do not iron. The t-shirts are 100% cotton and may shrink.
What is your return policy?
To return an item, you must request a Return Authorization Number.
All returns must be made within 30 days of placing your order.

All returns must be in the original condition. Bakelove.com will NOT accept or refund washed items. If a washed item is returned, it will not be accepted and you will be asked to pay for shipping to have the item returned to you.
Please email us to request your return authorization and enter Return Request in the subject line. Include your name, email address, and mailing address. Bakelove.com will email you a return authorization number. You will be responsible for the cost of shipping the items back to us.
If you are returning an incorrect or defective order, please explain in the email request, and after we receive the return, another will be shipped to you at no charge.
Returns/Refunds can take 1-2 weeks to be processed once we have received them.


Email us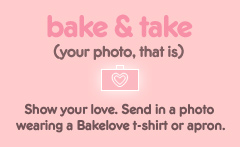 We would love to see you in our Bakelove Bakewear.Send us a photo wearing one of our products and we might just highlight your photo on the website. So get creative and show your love and your favorite baked good.
Send photos to: info@bakelove.com
Subject: Bake & Take
Include: Your first name
By sending your photograph, you grant Bakelove.com permission to display your image on the website.
See photo examples on the Bakelove Blog.